At a recent summit, senior academic leaders across the Australian tertiary education sector shared their thoughts about the biggest challenges facing education focussed (EF) academics today and how to address them.
What if educators across the Australian tertiary education sector had the opportunity to connect and exchange ideas to support educational excellence? 
It was the question that got Professor Louise Lutze-Mann thinking. As the Director of Education in the Portfolio of the Pro Vice-Chancellor, Education & Student Experience (PVCESE) at UNSW, Professor Lutze-Mann wanted to find – to quote the early pragmatist philosopher John Dewey – a 'community of inquiry' with a strong commitment to educational excellence. 
In a first for the sector, on 15 July 2021, over 30 senior academic leaders from 24 universities came together at an Education Focussed Summit to discuss the opportunities and issues related to EF roles, identify future directions for this academic career pathway, and establish stronger partnerships between institutions. 
"More than a year into the pandemic, the instructional sands have shifted from in-person to remote, to hybrid and back again," Professor Lutze-Mann says. "All this has again brought to the fore questions about what is good teaching, how instructional quality impacts the student experience and why universities should invest in scholarly teaching." 
"The EF Summit underscored the need for universities to recognise and champion the value of their EF staff and what they contribute to education across the tertiary sector. Having attendees from so many institutions reflected the desire to collaborate during times of unprecedented change." 
Hosted by the EF team at UNSW, the invitation-only forum provided an opportunity for sector leaders to consider the future viability of this role. Academic staff development is increasingly seen as a priority and key to improving students' learning experiences, retention and graduate employability. The EF Summit also explored how institutions might support and empower academic staff in these roles. 
Vice Chancellors, Deputy Vice-Chancellors, Provosts, Pro Vice-Chancellors, Directors of Education and Discipline Chairs from 24 universities discussed opportunities and issues related to the EF role, including: 
Role clarity – purpose, expectations and career progression

 

Recognition of workload beyond classroom teaching 

 

Developing institutional cultures that value education and support the EF career

 

pathway 

 

Expectations related to SoTL/Research and research supervision

 

How to support the EF role – centrally and in Faculties 

 
Leadership and 'educational excellence' (including metrics of teaching quality) 
Professor Merlin Crossley, Deputy Vice-Chancellor, Academic and Student Life, opened the Summit and spoke of the importance and impact of EF academics on the student experience. These themes were continued in Professor Lutze-Mann's overview of the EF role across the Australian tertiary education sector.  
She reminded the group, "Some universities including UNSW were truly prescient in having created EF roles so that we already have a group of educators who are able to take the lead in teaching in multiple formats, and also in providing support for colleagues responding to the challenges of delivering education during a pandemic." 
Attendees then explored these ideas further in breakout rooms before regrouping in a plenary discussion, the outcomes of which are captured in the Miro board below.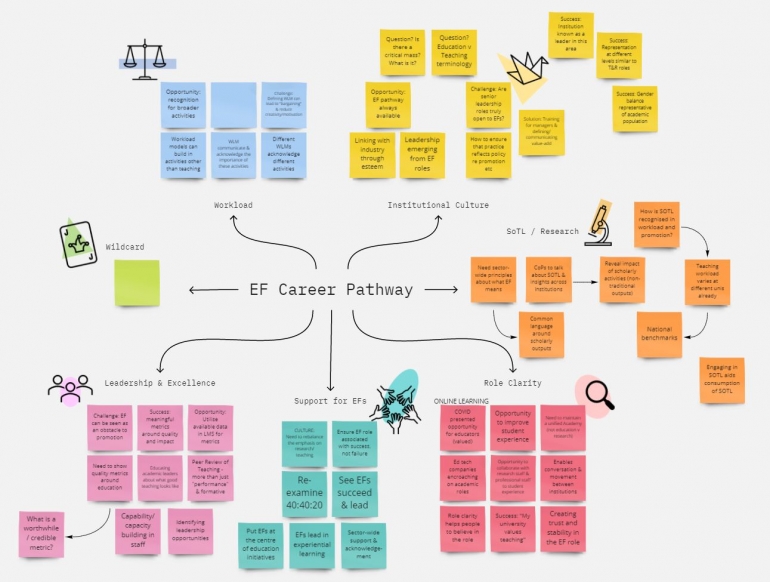 A visual summary of discussions at the EF Summit 
"Events like the EF Summit are very valuable in building new connections with senior leaders from multiple disciplines and institutions. It was inspiring to see how much we have in common and that we are all working to address similar challenges in pedagogy and student learning," said Professor Richard Miles, Pro Vice-Chancellor Education - Enterprise and Engagement and Vice-Provost, Academic Performance at the University of Sydney.  
A clear appetite for collaboration and coordination 
The EF Summit has provided an important opportunity for sector leaders to gain fresh insight into how other institutions across Australia are looking at faculty development. There was keen interest and support for EF roles among the attendees. "This is a trend that will transform the sector. EF roles empower our educators and are central to creating more engaging, more rewarding and more fulfilling learning experiences for students in Australia," said Professor Joanne Wright, Deputy Vice-Chancellor, Academic at the University of Queensland. 
Not all the challenges discussed at the EF Summit had straightforward solutions, but they sparked wider discussions. According to Professor Geoff Crisp, Deputy Vice-Chancellor, Academic at the University of Canberra, "Our robust and high-level conversations at the summit made it clear that this isn't the end of such deliberations. There are clear steps moving forward and exciting things ahead." 
There was broad agreement from the delegates that these next steps would include the formation of working groups, cross institutional Communities of Practice, and an annual EF Summit.  
Looking to the future, UNSW will also host an EF Congress – an annual conference that will bring together education focussed academics across Australia, providing opportunities to share their work, develop professional networks beyond their institutions, and discuss new ideas and ways to improve education and the student experience.